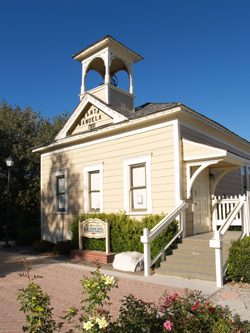 SANTA MANUELA SCHOOL HOUSE

A hands-on museum for exploration. Built in 1901 the one-room school is restored to its original state with books, maps, blackboards and photographs. Open noon to 3 p.m. most Saturdays and 1 to 3 p.m. most Sundays. Free. Rain closes. 127 Short St., Arroyo Grande, CA 489-8282

The Santa Manuela Schoolhouse a one-room schoolhouse, was built in 1901 on the property of Joseph Jatta which is now under the water of Lake Lopez.

The Schoolhouse was used until 1957 and was then moved to another location to due to the construction of the dam at the lake. It was moved again in 1999 to Short Street at the South end of the Swinging Bridge. The Schoolhouse was completely restored to its original condition including the students chairs, chalkboards, maps, books, etc.

Just behind the Schoolhouse is the "Barn", the South County Historical Society's Museum Annex which houses a variety of historical vehicles, printing presses and other interesting exhibits.