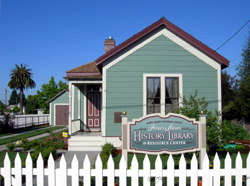 Patricia Loomis History Library & Resource Center -
Ruby's House

Books, pamphlets, photos and other resources on local history. Research assistance available weekdays 1 to 5 p.m. or by appointment. 134 S. Mason St., Arroyo Grande, CA 489-8282


This center offers teachers, students, journalists and researchers a wealth of materials on California history with a special emphasis on local South San Luis Obispo County history. The Library and Resource Center is available to students and community members for research projects, including the production of community history exhibits and historical reenactments. The Library and Resource Center was made possible through the generous donations of two retired women journalists, Patricia Loomis and Jean Hubbard.

Loomis, a granddaughter of local pioneers E.C. and Clara Loomis, was raised in Arroyo Grande and has been one of the Society's most important benefactors. Her generosity allowed the Society to renovate and restore sections of the 1888 Ruby's House in order to expand their library and outreach programs. Loomis also donated a large number of books from her private collection, including the Hubert H. Bancroft series on the history of the West, a 39-volume collection written in the late 19th century. Loomis's interest in California history stems from her long career as a journalist with the San Jose Mercury News, where for many years she wrote a history column named Signposts that focused on early pioneers of the San Jose-South Bay region and the streets named after them. She is also a long-time member and former officer of the Oregon-California Trails Association, dedicated to the preservation and protection of overland emigrant trails and the emigrant experience.

Several hundred books, pamphlets, photos, and scrapbooks were donated to the Society's new library by local writer Jean Hubbard. Hubbard wrote articles focusing on South County history for the Times Press Recorder for 12 years. Her articles, books, and wealth of knowledge on local history will be invaluable resources for researchers using the new library. Jean is a founder and charter member of the South County Historical Society, serving most recently as curator of the Paulding House Museum in Arroyo Grande. Her contributions to the preservation of local history are well known and unmatched.