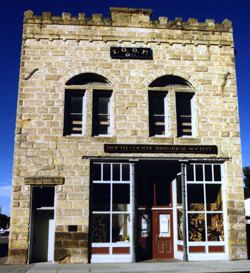 IOOF HISTORIC HALL

On the National Register of Historic Places, the former meeting hall for the Independent Order of Odd Fellows. The first floor is a multi-purpose area that serves as a theatre in the summer for on-going readers theatre programs exploring stories from local history, from the Dunites to Halcyon to remembering the Village in the 1930's. The live, one-hour, free programs play every Saturday during the summer at

2PM

. The huge annual rummage sale is held here the first weekend in November. Special programs during the year. 128 Bridge St., Arroyo Grande, CA 489-8282

The South County Historical Society acquired the property which was formerly the meeting place for the International Order of Odd Fellows in 1985.

The hall is located at 128 Bridge Street and was built in 1902 on land donated by Mrs. Elston in 1898. The building was completed in six months at the cost of $5.500.00. A local contractor, Ben Stuart did the stone work with native sandstone which came from a quarry just south of Arroyo Grande.